11 of the Best and Most Bizaree Met Gala Looks
May 16, 2023
What event could have a dress code ranging from cat costumes to formal evening wear? The Met Gala, of course! The beginning of May marked one of the most highly anticipated fashion events of the year, and the outfits ranged from completely wild to effortlessly stunning. Let's check out the 11 most interesting looks of the event.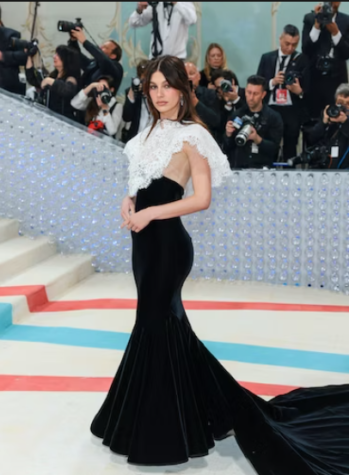 Camila Morro

ne- Modern Colonial
Camila Morrone arrived in a sleeveless black gown and a huge, detached lace collar. She looked like she was stepping off of the Mayflower, ready to make her home in a strange new world. Her vibe was very much pilgrim, and I'm not sure how to feel about it. It was, however, interesting to see.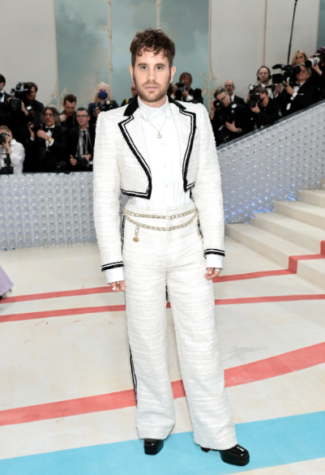 Ben Platt- Met Gala Grandma
Ben Platt wore a two piece white suit with a cropped jacket. The fabric of the suit was very textured. It looked a bit like what your grandma might wear to Easter lunch, and, somehow, he made that work.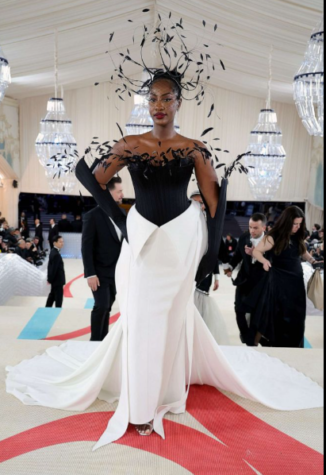 Tems- Forest Chic
Tems walked the carpet in a white gown with a black corset-like top. The show-stopper of this look was definitely the leaf/feather detailing springing out of the top of the dress, gloves, and elaborate headpiece. She was the classiest garden fairy at the event.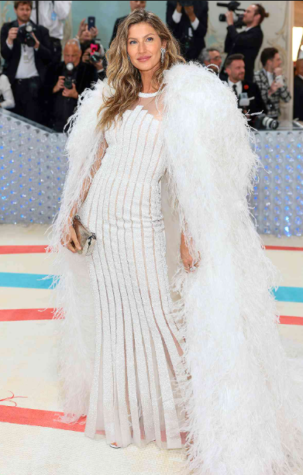 Gisele Bundchen- An Angel on Earth
Gisele Bundchen stunned in a sparkling white gown with a long, dramatic feather cape and silver jewelry. She looked practically angelic, especially when she fluffed out her cape for a photo-op. I thought she might fly away.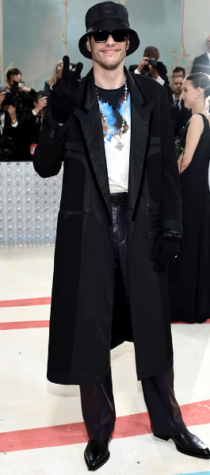 Pete Davidson- Bucket Hat Drama
Pete Davidson showed up in an all black number, aside from his water color like mesh top. His accessories included not only a long black coat and gloves, but a bucket hat and a pair of sunglasses that made it look like he came straight from vacation. Davidson absolutely pulled this off in a way only he could, even posing for paparazzi with a peace sign.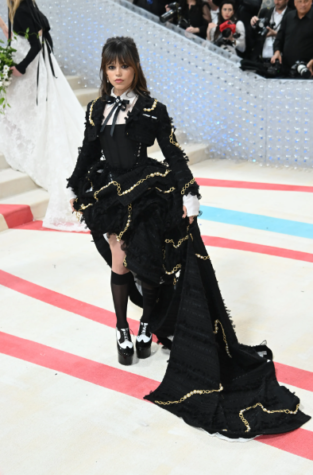 Jenna Ortega- Train Conductor Vibes
Jenna Ortega arrived in a multi-textured, structured mini dress with a long train and cropped blazer. The mini dress had a corset top and was wrapped in gold and pearl chains. The blazer and train had similar detailing. The look was finished off with sheer black socks and shoes that can only be described as bowling stilettos. The whole outfit came together to create a fashionable train conductor vibe. She was the most stunning train conductor I've ever seen.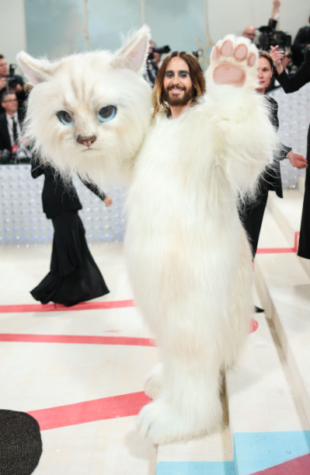 Jared Leto- A Su-purr-ising Look
Jared Leto came dressed as a cat. Not a cat inspired outfit. A literal cat suit. It looked like a highschool mascot, but he gets extra points because it was so different. Possibly the most shocking look.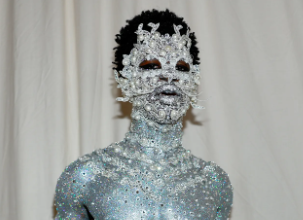 Lil Nas X- Glitter, Glitter, and More Glitter
No need for a disco ball at this event, Lil Nas X came dressed as one. His outfit consisted of a Speedo and a huge amount of silver glitter. He was absolutely covered in silver body paint and gems. Truly an eye catching look.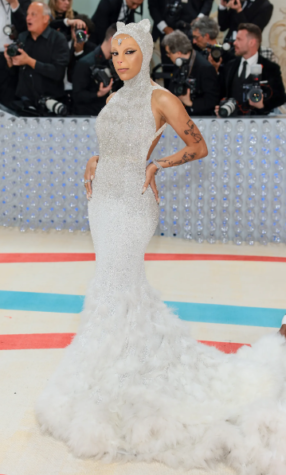 Doja Cat- True to Her Theme
Jared Leto wasn't the only cat on the carpet. Doja Cat kept in theme, showing up in a full-length silver gown with a cat-ear hood. To take the outfit to the next level, her face was fitted with a cat prosthetic. Per usual, Doja Cat was both stunning and creative.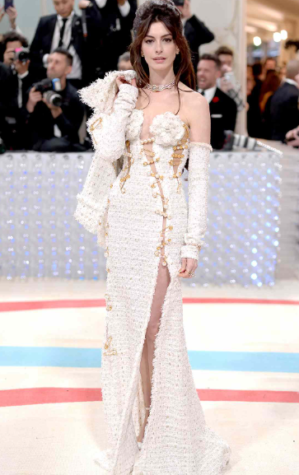 Anne Hathaway- Office Supply Queen
Anne Hathaway graced the carpet in a floor-length, strapless gown with slits held together by golden and pearled safety pens. She took an ordinary item and made it a stunning accessory. Props to the iconic actress.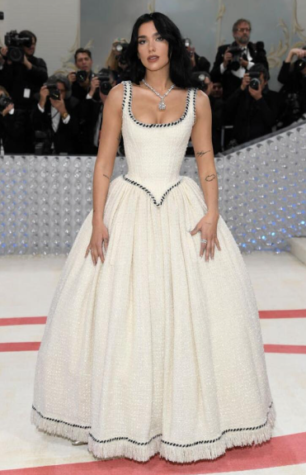 1.Dua Lipa- A Timeless Classic
Dua Lipa arrived in a white sleeveless ball gown. Sure, the dress's fabric looked like a carpet, but she wore it incredibly well and was perfectly on theme. It was very simple. Nonetheless, it was gorgeous and one of my favorite looks.
Thanks for reading! What were your favorite Met Gala looks this year?