Cavalier Theatre Brigade Performs Letters to Sala
The Cavalier Theatre Brigade led by director Mr. Reed Halvorson put on an impressive edition of Letters to Sala for the Fall Drama last week. The play follows the life of a young girl named Sala, played by freshman Ella Markalunas, as she travels from concentration camp to concentration camp in Nazi Germany. Sala risks her life to save all the letters she sends and receives. The play also takes place in recent time, as an older Sala's daughter and granddaughters discuss whether to hold on to the letters or give them to the New York Library.
I was very impressed with the execution and organization of the actors. With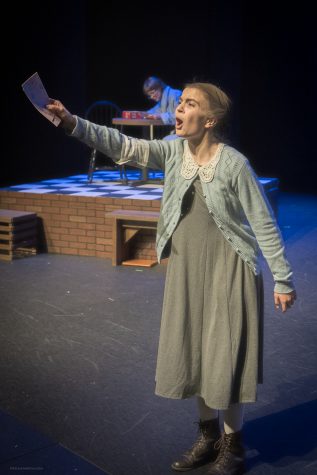 two separate scenes going on at once, it had to be difficult to keep the scenes organized, but the cast did an incredible job of doing so. The cast all played their character's role very well. Lastly, the play gives you something to think about as you leave theatre. Should Sala and her family have kept all the letters, or did they
make the right decision by giving most of them away to share with the public?
The final performance will take place tonight in Anderson, as they perform it for the South Carolina Theatre Association in the annual one act play competition. Following the completion of the competition, the Cavalier Theatre Brigade will begin working on the Musical Bye Bye Birdie which will be performed in February.